Merry Christmas. Well, it's almost Christmas only 1 more day! This is the perfect time to do a Christmas themed post. The Grinch is one of my favorite holiday movies so this tag is perfect. I was tagged by Danielle at The Introverted Bookworm. This tag was originally made by Sam at Thoughts on Tomes.
Half of the lights on the Christmas tree are burnt out: Name a book/series/character that started out good but then went downhill.
The House of Night Series by P.C Cast and Kirsten Cast. I read the first couple of books years ago (I'm talking 2009) and I enjoyed them. Fast forward to 2015 where I started reading them again (from the beginning) with book club and I just can't deal. I liked the first few books again and the novellas but after like the fourth book I was just so over everything that was happening. Why was all this repetitive stuff happening? The entire series is the same group with the same problems.
Annoying Great Aunt Sally who will not leave you alone: Name a book that you didn't enjoy, but everyone else seems to love so it never goes away. 
Fangirl by Rainbow Rowell. I just could not get into it. I read about 200 pages and I was bored. I lost all interest in it and just returned it.
Your pets keep knocking over the Christmas decoration: Name a character that kept messing things up for everyone else. (Can't pick a villain.)
This could also go back to The House of Night Series. Zoey is always "trying to do what she thinks it right" but that path is not as easy as she thinks. She doesn't listen to anyone. At one point she has three boyfriends, which is clearly not going to work out for anyone involved. All of her friends don't listen to anyone. There is always so major catastrophe happening and guess whose in the middle of it? That's right. Zoey literally has ZERO character growth throught out entire series. She NEVER learns.
You hear your parents putting out the presents and learn Santa isn't real: Name a book you were spoiled for. 
I guess Harry Potter. I've seen all the movies and read the first two books so I mean I know what happens for the most part. I know there's a lot of stuff I don't know which I think is why it doesn't matter to me. There's so much I don't know it won't affect what I do know.
It's freezing outside: Name a main character you just couldn't connect with.
I didn't really connect with Alina from the Girsha series. I liked the books as a series but the first book just fell kind of flat for me.
Mariah Carey's 'All I Want for Christmas is You' and it's giving you anti-romantic feelings: Name a couple you couldn't stand. 
Is it too obvious if I say Tamlin and Feyre? Because yeah. That should never be a thing.
That scratchy homemade wool sweater you got for Christmas years ago but won't get rid of: Show some books that have been sitting on your shelves for awhile and you aren't motivated to read, but you don't have the heart to get rid of.
I have a bunch of classics that are similar to this. I don't know if I'll ever read them but there's no way I can part with them. 
Grandma got run over by a reindeer: Name a character death you still are mad about. (Warn people for spoilers! You can also use tv or movie deaths.)
***SPOILERS FOR SIX OF CROWS/CROOKED KINGDOM**
I'm still gonna be vague here so I don't ruin things for anyone. But there is a certain Crow that I'll never get over.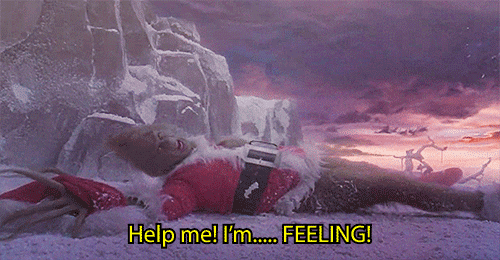 The malls are overly crowded with holiday shoppers: Name a series that has too many books in it/went on too long.
The House of Night Series. I think there's around 13 books or something. Oh and now there is a spin-off series.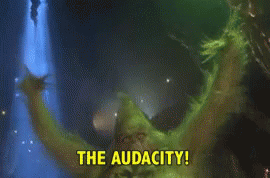 The Grinch: Name one character you HATE. (No villains)
Why is this such a hard question. Hate is such a strong word and while there are plenty of villains that come to mind, I'm drawing a blank. I don't like Zoey. I don't like Tris Prior. I don't like Elana from Vampire Diaries, man is she annoying (I haven't read it. Just the TV show version).
---
---