Synopsis: "I've been chased my whole life. As a fugitive refugee in the territory controlled by the tyrannical Mercer corporation, I've always had to hide who I am. Until I found Excalibur.

Now I'm done hiding.

My name is Ari Helix. I have a magic sword, a cranky wizard, and a revolution to start.
When Ari crash-lands on Old Earth and pulls a magic sword from its ancient resting place, she is revealed to be the newest reincarnation of King Arthur. Then she meets Merlin, who has aged backward over the centuries into a teenager, and together they must break the curse that keeps Arthur coming back. Their quest? Defeat the cruel, oppressive government and bring peace and equality to all humankind. No pressure."
Release Date: March 26, 2019
Rating: 5/5 stars
It's been so long since I've finished a book and loved it. I'm so freaking excited right now.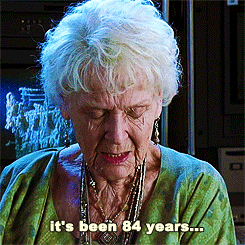 Once & Future is everything I hoped for. A gender-bent King Arthur retelling full of LGBTQIAP+ rep in space with dragons is every once what I needed and wanted. This is one of the most diverse books I have ever read and it's done flawlessly. Everyone should take notes. The moment they started talking to Merlin about using the correct pronouns and not assuming gender I knew this was going to be perfect.
Once & Future follows the story of Ari, an illegal immigrant and her misfit group of knights (who are amazing) and their fight against a corporate monarchy. Who doesn't love a good rebellion? Rebellions give you action, a cause to fight for, and romance even when you aren't always expecting it. This book has all of that and some.
Did I mention dragons? In space? That's the best thing. I would be interested in just one of those but both? Yesss please!
As soon as I finished I wanted to continue reading. I can't wait for The Sword in the Stars in 2020. I really am curious to see where Ari and Merlin are headed.
Okay, let's be honest here I love Morgana. In every thing. I know I should hate her but I can't. And since we're talking about characters let's talk about the knights. By the time the book was over I cared so much for Val and Lam that I would read just a book about them. I'm a literally indifferent about Kay and Gwen. Jordan is a commendable warrior who I would totally want on my side. Merlin and Ari have such a great dynamic. Did I mention I love Val and Lam? They are hands down my two favorite people in the story.
You know what else this book is? Funny. There is some amazing witty banter and that's one of my favorite things about books featuring a ensemble cast.
I highly recommend this book. Please give it a chance.