Synopsis: "Imagine… Leaving your house in the middle of the night. Knowing your mother is doing her best, but she's just as scared as you.
Imagine… Starting a new school, making friends. Seeing how happy it makes your mother. Hearing a voice, calling out to you.
Imagine… Following the signs, into the woods. Going missing for six days. Remembering nothing about what happened.
Imagine… Something that will change everything… And having to save everyone you love."
Release Date: October 1st, 2019
Rating: 5/5
Content Warnings: suicide, murder, child death, domestic abuse, sexual assault, extreme child abuse, emotional abuse, neglect, alcoholism, depression, torture, clowns, death of a parent.
Buddy Read with Whitney @ BooksWhitMe follow the link to her review.
OH MY GOD! You guys. This book was wild. The ride that it takes you on is crazy. I went into this with no expectations and it did not disappoint. I honestly don't even know why I checked it out from the library. I happened to walk past it (before they closed due to the virus) and just grabbed it. Thank you library gods for bringing me this book. From the first few pages I was hooked. If you would like to see a play by play of my reactions might I suggest checking out the twitter thread. There was also a lot of me looking like this lady. Everything that could go wrong went wrong.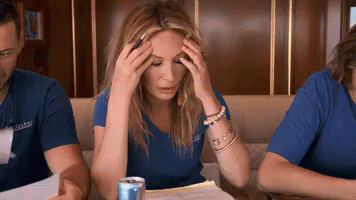 I am going to try and summarize this with as little spoilers as I can because there is just so much to this book and even the small details are important. Imaginary Friend is about this kid named Christoper who moves to a new town with his mom Kate after she flees her abusive boyfriend. Christopher is leaving school one day when he hears a voice and follows it into the woods and then disappears for 6 days! They look every where, he's just vanished. He just suddenly appears on the side of the road found by someone else very important to the story Mary Katherine. Christopher comes back better in every way. His dyslexia is mysteriously gone, he is some how almost all knowing and with it all of his families shitty luck. Things finally are looking up for Kate and her little boy until it's not. Next thing you know we are in a fight to save the world and our only hope his Christopher. Now I know that leaves a lot of the story out but unless you want me to tell you all of the plot points that's as spoiler free as I can get.
Imaginary Friend stressed me out so much but I loved every second of it. I don't read a lot of mystery/thriller/horror books (I'm working on that) and this was the best. There wasn't a single thing that I saw coming. Every time I thought I knew I was wrong. I spent the whole book much like our friend Jim here just stressed out and confused. It was perfect. There were a few things that bugged me which were mostly parenting decisions and the fact that all of the adults just acted like it was normal that Christopher just magically became the smartest person they've ever met.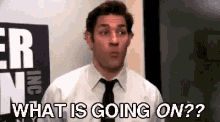 If you happen to have any recommendations for more books like this please let me know I have a mighty need for more.
Till next time,